Getac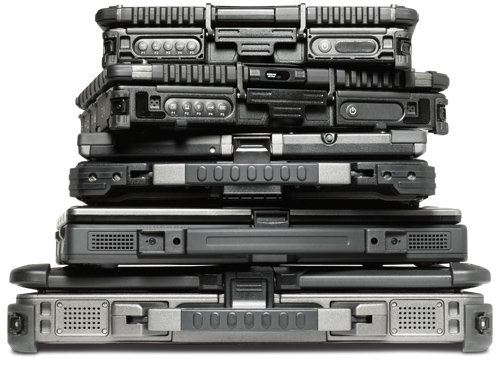 Getac Technology Corporation, founded in 1989, listed on Taiwan Stock Exchange, is one of the key subsidiaries of MiTAC-Synnex Business Group, the third largest computing group in Taiwan with US$25.3 billion dollars revenue in 2011. Getac Technology corporation's main business encompasses two main categories; namely ruggedized computing solutions and plastic and metal component module business.
Computing Business
Getac, back-up support by one of the earliest pioneer of computing design and manufacturer and also the third largest computing business group in Taiwan, Getac has accumulated abundant experiences and know-how of computing technology. In 1989, Getac was founded as a joint-venture between MiTAC Inc. and GE Aerospace, specializing in providing defense-related electronic equipments. The partnership helped Getac to lay a solid foundation in the ruggedized computing technologies. In 2007, Getac has become the world's third largest fully ruggedized computing solution supplier under the Getac brand name.
As one of the leading ruggedized computing solution supplier, Getac offers the most extensive rugged computing product lines covering from notebook, tablets and handhelds, and the ruggedness level ranges from fully rugged, semi-rugged to business rugged. All products utilize state of the art technologies, and meet with international testing criteria, such as MIL-STD 810G, IP ratings (IP54, IP65, IP67), and 461E. Getac rugged products are applicable for a wide range of fields, crossing military and defense, law enforcement, public safety, utility, field service, oil and gas, telecommunications, transportation, manufacturing and mobile workforce. Getac provides excellent, customized service to satisfy the varying requirements of different vertical market segments.
Since its establishment, Getac (Optoelectronics Product Business Center) has made several technology breakthroughs over the last two decades, such as industrial leading sunlight readable panel technology QuadraClear™, Night Vision without Goggle, power saving technology, and launching the industrial's first resistive multi-touch screen ruggedized computing solutions.
Component Modules Business
Apart from computing business, the merge acquisition of MiTAC Technology Precision in 2007 has enabled Getac to expand its business scale in the component module business, and the action to acquire Waffer Technolgy Corporation in 2009 is also a major milestone which takes Getac to become the third largest magnesium-alloy mechanical component supplier in the world. Its primary business includes tooling and mass production, ranging from design, mockup, tooling to plastic injection, stamping to coating, magnesium-alloy die-casting as well as printing and post-production assembly services, serving customers in the 3 °C and automotive industries. Getac component modules business is fully supported by innovative fabrication technology and vertical integration advantage, capable of supporting comprehensive customized service according to customer specifications, with its uncompromising quality and service commitment much sought after and recognized by major global leading producers.