FASTWEL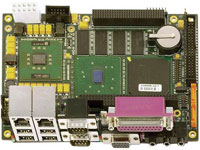 For more than 15 years Fastwel has been one of the leading companies developing and manufacturing rugged Single Board Computers for mission-critical applications in transport, security and telecom. We deliver CPU modules for aerospace equipment, industrial automation and process control systems. Besides standard products manufacturing, Fastwel offers a full range of OEM and ODM services.
It has always been Fastwel primary goal to provide world class, highly reliable embedded computer solutions for mission-critical applications, which can serve long-term demands of our customers and secure their efforts and time. We deliver a wide selection of CPU modules designed in CompactPCI, PC/104, VME, 3,5», EPIC form factors, as well as Industrial Motherboards and Computer-on-Modules. Most of these products operate at the temperature range from -40 °C to +85 °C and withstand high level of shock, vibration (50G/5G) and humidity (up to 95% noncondensing).
Our manufacturing is ISO 9001:2000 TUV quality management system certified and corresponds to the world standards and trends. Fastwel technological level allows to produce RoHS compliant equipment and all our boards have a CE certification. The compatibility of Fastwel products with modern operating systems and equipment enables the company to perform successfully on the demanding technological market.
Our team is ready to support you on every stage of your project and customize standard product in accordance with special system requirements.
Fastwel Priorities
Customer's trust and convenience;
Wide range of form factors;
Long-term technical support and products availability;
3 years warranty;
Conformance to international standards;
Ability to manufacture RoHS compliant products.
Fastwel Activity
Developing and manufacturing industrial SBCs and modules for mission critical applications;
Contract manufacturing and standard products customization;
Full range of OEM and ODM service.