Pepperl+Fuchs (PA)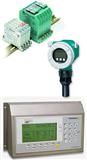 Pepperl+Fuchs is one of the world's largest manufacturers of electronic sensors and the undisputed world market leader for intrinsic safety and explosion protection technology. We've been setting the standard in quality and innovation for the world of factory and process automation for 60 years. No other industrial automation company in the world offers a larger product selection of sensors and interface devices.
The target industries for our Process Automation equipment, which includes point-to-point and bus-to-bus products, point-to-bus connection products, level sensing, corrosion monitoring, power supplies, BEBCO EPS purge & pressurization, industrial PCs, interface panels for hazardous environments, and barcode scanning solutions are involved in chemicals, pharmaceuticals, petrochemicals, oil & gas, as well as wastewater treatment and power technology.
One Company – Two Divisions
The Factory Automation Division is a leading manufacturer of industrial sensors designed to address specific market needs on a global basis. We offer a full range of inductive, capacitive, photoelectric, and ultrasonic sensors as well as identification systems, barcode and camera systems, rotary encoders, position measurement systems cordsets, & other accessories.
The Process Automation Division is the market leader for intrinsically safe components & products for hazardous area applications. Our products enable you to combine a wide range of electronic equipment into complete system solutions, including remote I/O, HART, purge & pressurization, level sensing, corrosion detection, power supplies, industrial PCs & interface panels for hazardous environments, signal conditioning, & fieldbus interface products.