Belden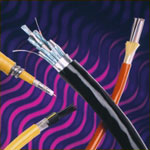 Belden designs, manufactures and sells a comprehensive portfolio of cable, connectivity and networking products for the transmission of signals for data, sound and video applications.
Belden's highly differentiated, high-performance products can be found in a variety of markets including industrial, enterprise, broadcast, transportation, energy and consumer electronics.
You can find Belden signal transmission solutions in:
NFL, MLB and other major sports stadiums
jet fighters and spacecraft
power, water and water treatment plants
wind and solar power generation plants
government and commercial office buildings
data centers, hospitals and classrooms
television network and production facilities
video game systems and cell phones
security systems
high-speed trains and other public transportation
Belden's reliable products and design, engineering and manufacturing excellence enable it to create end-to-end signal transmission solutions that meet the most demanding standards for data, sound, and video applications.
Belden's business is structured in three product platforms: Cable, Connectivity and Networking.
Belden's cable business and includes a wide range of copper, fiber and coaxial solutions.
Connectivity products include both fiber and copper connectors.
Belden's networking business is made up of intelligent wired and wireless products that include Industrial Ethernet switches and related equipment, fiber optic interfaces and media converters used to bridge fieldbus networks over long distances.
Belden is headquartered in St. Louis, employs approximately 6,600 people worldwide and has manufacturing capabilities in North America, Europe, and Asia, and a market presence in nearly every region of the world.